How To Choose A Bridal Jumpsuit For A Modern Look On Your Wedding Day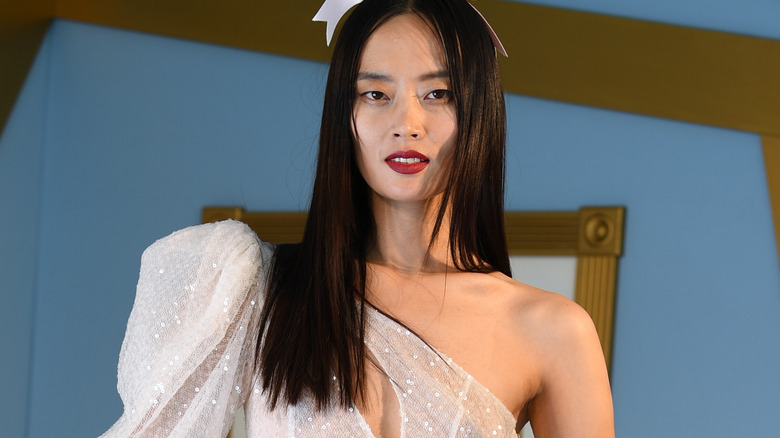 FashionStock.com/Shutterstock
So, you've found your soulmate and are planning your wedding after years of dating. Or maybe you survived a long-distance relationship with the love of your life and are finally about to get married. Whatever the scenario is, you should enjoy every step of planning your wedding, including finding the perfect bridal outfit. According to Brides, some of 2022's most prominent bridal fashion trends consist of high necklines instead of the classic sweetheart neckline, dresses featuring color rather than all-white looks, and non-traditional short dresses and jumpsuits instead of gowns.
Some benefits of rocking a jumpsuit on your wedding day include being able to make them as fancy or low-key as you desire and express your unique style when wearing them (via The Knot). Plus, you'll have a much easier time dancing in a jumpsuit than you would in a long gown. Furthermore, don't assume that jumpsuits aren't bridal enough; you can make them look just as romantic as dresses with the help of veils, headpieces, heels, shawls, and bling!
How to pick the right one
There are some crucial details to consider when selecting your bridal jumpsuit, including the theme of your wedding, per Green Wedding Shoes. For instance, if your wedding is going to be a black-tie event, you should choose an elegant option made of high-quality materials, or if your wedding is going to be on a beach, you shouldn't choose one that's so long that it will drag across the sand. And, as always, you should be sure that the jumpsuit you choose will properly fit your body so you won't feel uncomfortable on your special day.
If you're on the hunt for the perfect bridal jumpsuit, Brides rounded up some excellent choices for you to consider. To start, anyone looking for a no-frills strapless option should consider the Lulus Strapless Jumpsuit. Available for only $68, this jumpsuit is made of 95% polyester and 5% spandex. If you prefer a lacier look, the Lulus Halter Lace Jumpsuit is selling for $82 and consists of cotton, nylon, and polyester. Last but not least, if you're a bold bride-to-be looking for something glamorous, the Lola Blanc Feather Jumpsuit by Bronx and Banco is available at Revolve for $635. Featuring feathers, sparkles, and pearls, this dress is perfect for brides who want to make a statement on their big day.
So, which is the perfect jumpsuit for you?