How To Upgrade Your Wardrobe With Statement Accessories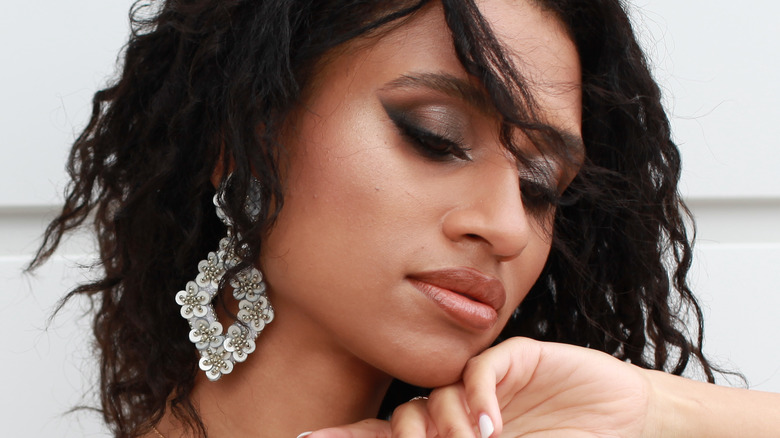 Ina ART/Shutterstock
We may receive a commission on purchases made from links.
Wearing accessories is a great way to elevate any outfit in your closet. Whether you flaunt retro eyeglass frames that you can rock at any age to add a little something extra to your look while improving your vision or ditch your smart watch for something more stylish, it's always exciting to accessorize. One excellent way to add some pizazz to your looks is to wear a statement accessory. If you're unsure what this is, a statement accessory is typically the focal point of your outfit and is usually a piece of jewelry, a purse, or a pair of shoes (via Melroso).
If you're looking for some examples of statement accessories, you can find a fashion stylist named Thalia wearing countless bold, beautiful statement pieces on Instagram. From a huge blue purse to long, dangly earrings, Thalia isn't afraid to rock a plethora of daring accessories to complement their maximalist aesthetic. If this fashionista has you feeling inspired to start exploring statement accessories, you should get ready to flaunt some fun pieces of your own!
Get creative with it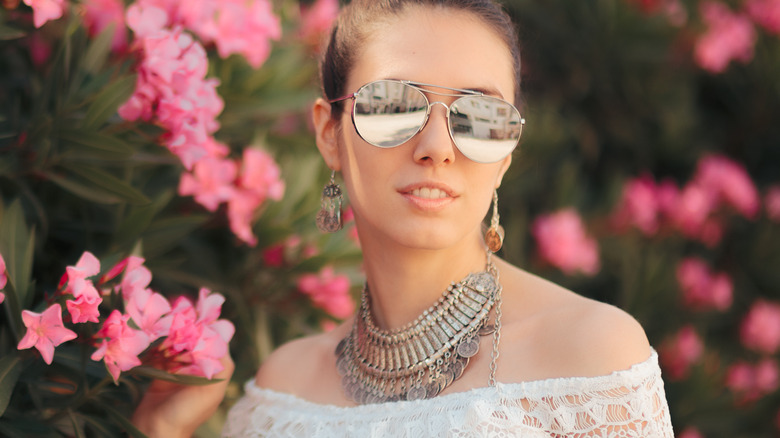 Nicoleta Ionescu/Shutterstock
A couple of reasons why you should wear statement pieces are that you can use these head-turning earrings, necklaces, purses, rings, hats, and scarves to show off your unique personality, and the right pieces can make even the most minimalistic outfits dramatic, per Meghna Jewels. Whether you identify your style as glamorous, sophisticated, edgy, boho-chic, or all of the above, there are statement accessories available for everyone; all you have to do is find the right ones.
Are you looking for suggestions regarding which statement accessories you should add to your wardrobe? If the answer is yes, you can't go wrong with a stylish set of stacked bracelets. You can buy the alluring Multi-Color Stretch Beaded Stackable Bracelets by The Riah Fashion Store in whichever color option best suits your style for below $20 on Amazon (via BuzzFeed). 
On the other hand, anyone with an edgier style should consider investing in the Cape Robbin Spiky Combat Ankle Boots. Available at Amazon for around $55, these bedazzled black boots will add some edge to any of your outfits while making you look a bit taller. Or, if you prefer a showstopping look, you can dress up any outfit with a colorful, sparkly headband. Amazon is selling QTMY's set of two Beaded Crystal Wide Vintage Statement Headbands for less than $40, which have a perfect rating. These glamorous hair accessories give a "Gossip Girl" vibe while making a bold statement!
Ultimately, choosing statement accessories is deeply personal, and once you find ones you like, you can build your own arsenal of them, almost like choosing a signature fragrance.