How To Find The Perfect Bathing Suit For Your Body Type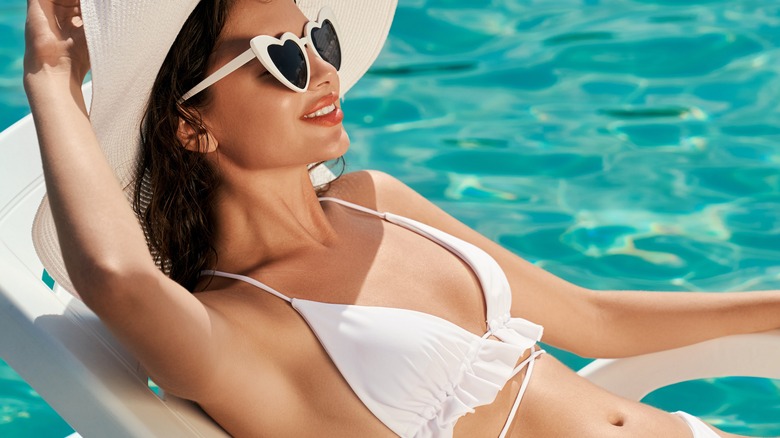 Serhii Bobyk/Shutterstock
With the temperatures rising and the sun shining, you should remember to be kind to your body this summer. Although movies, TV shows, and social media can make this difficult, you should never let the phrase "summer body" bring you down or make you feel concerned with how you look (via HuffPost). Everyone has the right to enjoy hot summer days by the pool or at the beach with friends and family, regardless of shape and size.
As much as everyone should enjoy flaunting their swimsuits, we know that shopping for them can be a bit stressful, especially for people who may feel a bit shy or insecure. An excellent way to have a more enjoyable experience searching for swimwear is to shop from brands that encourage inclusivity and body positivity. One brand known for empowering women to embrace their authentic selves is Aerie, a brand with 1.5 million followers and counting on Instagram. This inclusive brand's Instagram bio simply but powerfully says: "Power. Positivity. No retouching."
Even if you shop from body-positive brands, we understand that some people may still feel nervous about finding the right swimsuit. If that's the case, we know some tips for finding the best bathing suit for your body.
Wear what makes you feel comfortable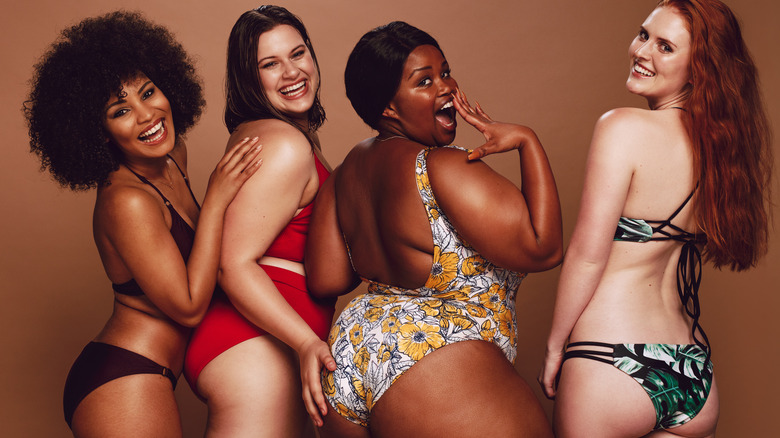 Jacob Lund/Shutterstock
Everyone should wear any bathing suit that makes them feel good about themselves this summer — and every summer — and comfort is always crucial. Some types of bathing suits offer more support to certain body types, so it's a good idea to understand which swimsuit options will provide you with the most comfort, depending on your body type. For example, if you have a larger chest area, you should look for bathing suits with helpful support and large straps to avoid discomfort, and if your bust is smaller, some subtle padding can enhance the chest area — and halter tops are quite flattering, too, per Travel Fashion Girl.
Meanwhile, if you have wider hips, Travel Fashion Girl recommends bolder tops and more subtle, high-waisted bottoms. On the other hand, anyone can try rocking fun patterns and colors or wild cut-outs.
Of course, these are all just suggestions, and you should choose any bathing suit you like and feel happy wearing. After all, every body is ready for summer, and you should wear whatever you want during the summertime, just as in every other season (via Marie Claire). Just don't forget to use sunscreen at the beach or pool!